Questions poured in by the dozen after the morning session of the 2015 Adapt CT legal workshop—six pages worth, in fact. 
"After the lunch break, we asked people to put questions into a box, and we got through some of them in great panel discussions in the afternoon," recalled Juliana Barrett, Connecticut Sea Grant coastal habitat specialist and one of the workshop organizers. "But we had received huge numbers of questions."
The roomful of state and municipal officials had come to explore the complex legal conundrums arising with the effects of climate change, mainly rising sea levels and stronger, more frequent storms causing increased flooding, property damage and loss, among other impacts. 'Tip of the iceberg' might be the metaphor that came to mind, even as icebergs shrink with climate change.
The workshop attendees posed questions like:
How does state/local government start to enact meaningful regulations that address climate change, knowing they will affect property rights?
Does beach nourishment change property lines?
Is there a legal liability to a town for identifying properties in a coastal resilience plan that may be flooded in the future by sea level rise?
The workshop was part of a series on climate adaptation hosted by Connecticut Sea Grant and the UConn Center for Land Use Education and Research, known as CLEAR, through their joint organization Adapt CT. Legal issues had starkly emerged as another area being reshaped by the broad sweep of the changing climate, as effects are felt across fisheries, agriculture, health, infrastructure, wildlife and economies.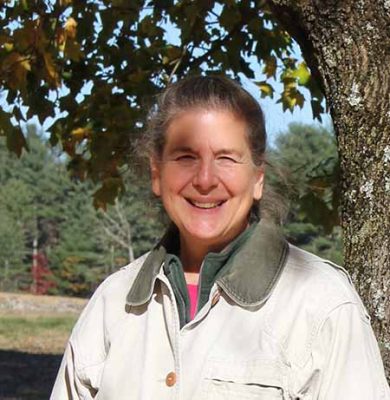 "In the beginning I didn't realize it was going to be such an issue," Barrett said. "But then I saw that this is going to be an ongoing issue, and we needed to get out there in front of it."
That realization led Barrett and co-organizer Bruce Hyde of CLEAR to start working with the Marine Affairs Institute at Roger Williams University School of Law, home of the Rhode Island Sea Grant Legal Program that serves Sea Grant programs throughout the Northeast. The partnership agreed to produce the Legal Issues in the Age of Climate Adaptation fact sheet series on issues specific to Connecticut case law and policy, researched and written by Rhode Island Sea Grant law fellows supervised by staff attorneys. Connecticut Sea Grant supported the work of the law fellows, and each project produced three to six pages of content followed by several pages of citations and other references. 
The sixth and most recent fact sheet in the series, "Flooding, Eminent Domain and Government Authority" was published on the websites of Connecticut Sea Grant and Adapt CT in early January, building off a virtual workshop on managed retreat in November 2020. Several in-person workshops complemented the previous fact sheets.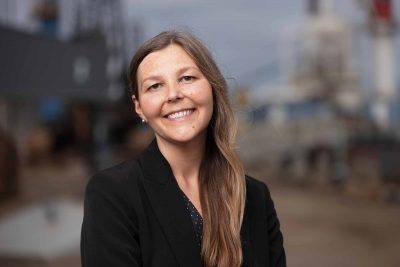 "Climate change is a dynamic field, but so is law and policy, so we are used to evolving areas of practice," said Julia Wyman, director of the Marine Affairs Institute and Rhode Island Sea Grant Legal Program. "Connecticut Sea Grant reached out to us directly with their questions. We worked on the fact sheets, and the workshops, over several years. It was a really fun opportunity to dig into the issues surrounding climate change."
Wyman said the fact sheets are a "snapshot in time" relying on the best available science and legal research at the time they were written. 
"As time progresses," she said, "it is likely science, climate change impacts and laws and policies surrounding both will change. If our partners have a need for updating them in the future, we are open to working on updates."
The titles of the first five fact sheets, like that of the sixth fact sheet, signal the intriguing, complex and varied challenges that local and state officials and others are facing: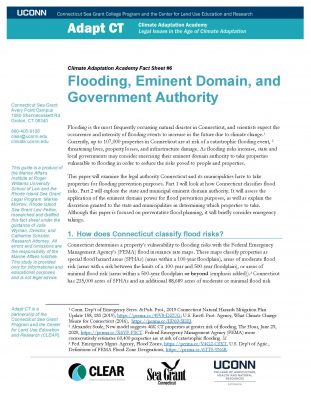 For the law fellows and staff attorneys at the Marine Affairs Institute, the fact sheet project was a chance to apply their legal skills to helping answer some real-world questions. For the fact sheet about road flooding, for example, Barrett led one of the law fellows on a tour of problem roads in Madison, Old Saybrook and other coastal towns.
"It was a great opportunity for us to partner with Connecticut Sea Grant and UConn's CLEAR," Wyman said. "Our staff and students enjoyed working with the team, attending and presenting at workshops, and in general learning more about Connecticut law related to climate change."
Wyman said her institute has done several projects on climate change issues, including producing similar legal fact sheets for Rhode Island Sea Grant and another series for other New England states. 
"We are always happy to partner with other Sea Grant programs and other coastal constituents on their questions of coastal law and policy," Wyman said.
Barrett said the Connecticut Sea Grant fact sheets have been well-received, prompting many of the 3,740 visits last year to the Adapt CT website, where the documents can be downloaded. While most of the users are municipal officials, private landowners are also accessing them. 
"As situations and topics arise, I would like to see this partnership with the Marine Affairs Institute/Rhode Island Sea Grant Legal Program continue," Barrett said. "We're getting a really strong and useful product for our stakeholders."
Article by Judy Benson is the communications coordinator at Connecticut Sea Grant. First posted on https://seagrant.uconn.edu/2022/02/09/fact-sheets-help-local-leaders-navigate-climate-change-questions/