The Blue Heritage Trail, a collaborative initiative developed by UConn Maritime Studies faculty and students with guidance and support from the Blue Heritage Trail Advisory Committee, has launched with the installation of eight informational signs at key sites in southeastern Connecticut.
The eight signs that were installed June 8 and 9 in Groton, New London and Waterford represent the first phase of the development of the Blue Heritage Trail. The signs can be found at: Bluff Point State Park and Coastal Reserve, Fort Trumbull State Park, Fort Griswold Battlefield State Park, Harkness Memorial State Park, Naval Submarine Base New London, New London Waterfront, Ocean Beach, and the University of Connecticut Avery Point campus. Partners in the project include Connecticut Department of Energy and Environmental Protection, Connecticut Sea Grant, Connecticut State Parks, Thames River Heritage Park, and UConn Avery Point. Sign fabrication and installation for this stage of the project is supported by National Park Service Maritime Heritage Grant funding.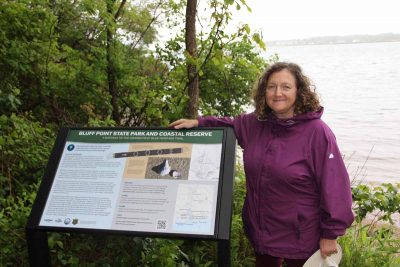 The Blue Heritage Trail project aims to raise public awareness of the critical importance of the marine environment and maritime economy and culture for Connecticut and for people everywhere. Connecticut's maritime heritage, which is based on a productive and richly diverse marine environment, is long and varied. It encompasses an historical trajectory that begins with the relationship of Native peoples to the marine environment and includes the development of a robust maritime economy, significant cultural practices and meanings, recreational opportunities, and military activities. Public awareness and appreciation of this heritage is critical to develop a more complete understanding of the value of the marine environment and maritime heritage of the United States as a whole.
The Blue Heritage Trail will ultimately consist of a series of walking, driving, and boating tours (found on the IZI travel app) and curated information on individual points of interest at various sites in the Thames River watershed and nearby coast. The information will be available on signs installed at the sites as well as via an interactive website designed to link these individual components into a cohesive Blue Heritage Trail.
For more information contact:  Dr. Nat Trumbull, Maritime Studies Program, University of Connecticut;  (508) 540 0308; trumbull@uconn.edu.
Photos: Judy Benson / Connecticut Sea Grant
Post taken from Connecticut Sea Grant