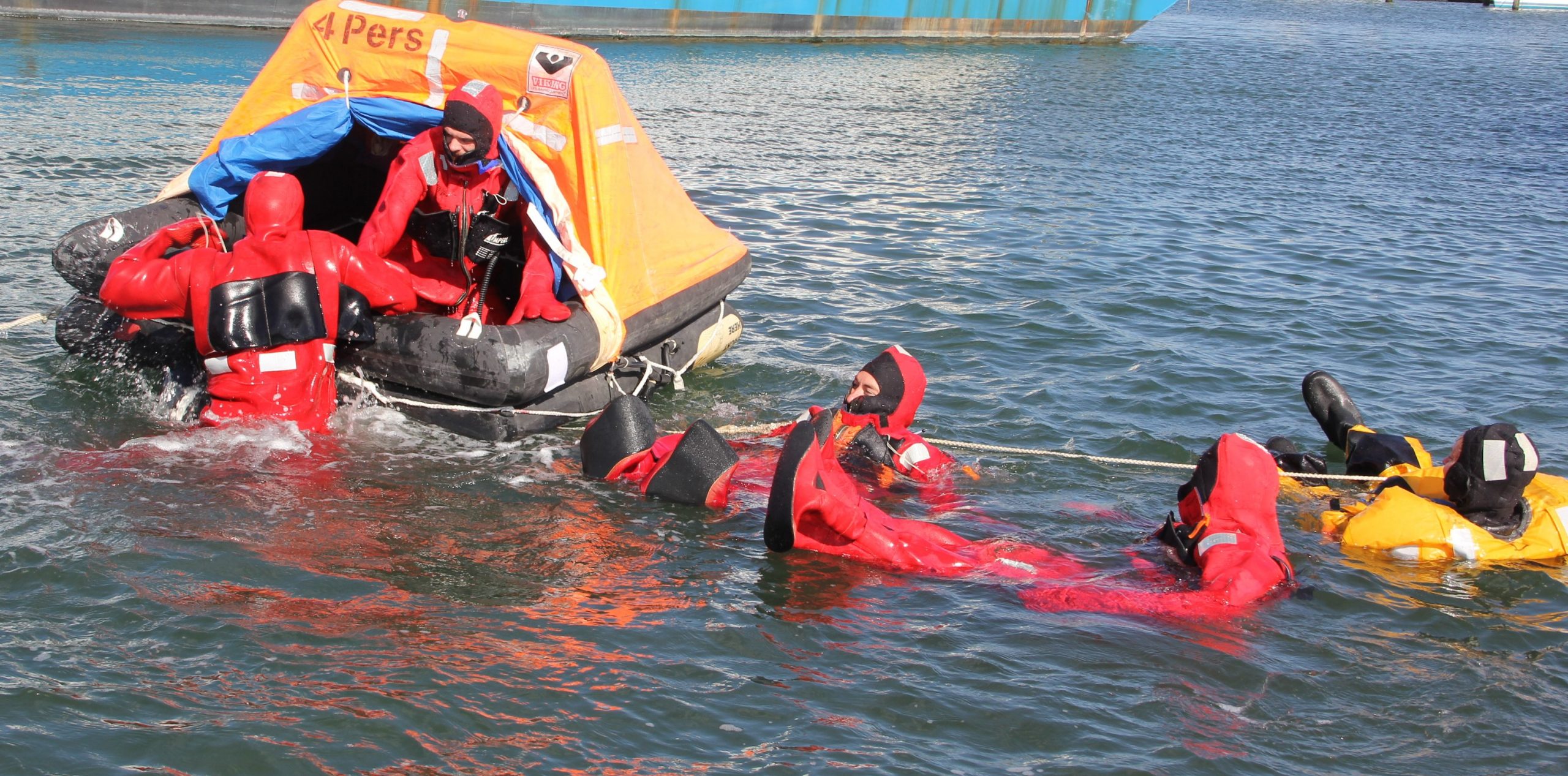 Story and photos by Judy Benson
Dan Russell and Abraham Powell are at opposite ends of their fishing careers.
While both work from vessels docked in New London, Russell is a boat captain who's been fishing for 50 years. Powell is brand new, having been hired a month ago.
"I haven't even been out on a boat yet," he said.
Yet they agreed the Safety at Sea training Oct. 20 and 21 was time well spent regardless of whether they were seasoned or beginner in this ancient and perilous trade. Sponsored by Connecticut Sea Grant and UConn Avery Point in collaboration with Fishing Partnership Support Services and the U.S. Coast Guard, the free training put 49 commercial fishermen, state marine agency staff and UConn Marine Science Department researchers and vessel crews through intensive hands-on and classroom lessons that could one day save their lives.
"I learned about some of the new flares and some of the new emergency gear," said Russell, who first learned safety skills many years ago from the Coast Guard but had never been to the Sea Grant-sponsored training for a refresher.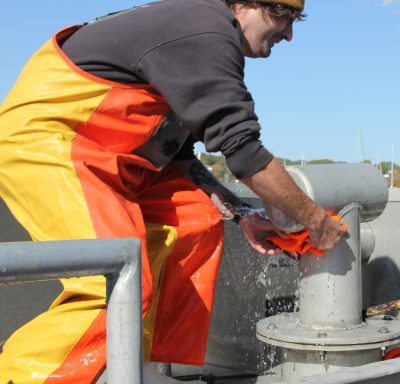 Sea Grant has been sponsoring the training with various partners about every two years since 2000 and teamed up with the Fishing Partnership in 2016.
"Hosting these training opportunities to build a culture of safety is one of the most important things I can do for those who work on the water for a living," said Nancy Balcom, associate director and extension program leader for Connecticut Sea Grant. "It's especially fitting that we held this training in October, National Seafood Month."
The classroom portion of the program included an overview of MAYDAY call procedures, PFDs (personal flotation devices) and other safety equipment, interspersed with accounts of real-life tales of survival and tragedies at sea from the instructors, many of whom worked in the industry themselves. Shannon Eldredge, marine safety instructor and community health worker for Fishing Partnership, prefaced a segment on overdose response with a reminder about why fishermen need to be alert for opioid use among their colleagues.
"You don't get sick time," she said. "You're working through pain, and you're using prescription drugs. You're going to be the first responders to an overdose."
That segued into a presentation by Trish Rios, community health worker for the Alliance for Living in New London, about how to administer the overdose reversal drug NARCAN. She recommended every vessel have at least two doses in its first aid kit, and brought several dozen packages of the drug for each fishing vessel to take.
The training then moved outdoors, where groups moved between stations to practice how to deploy signal flares; don immersion suits and board life rafts; put out onboard fires; and repair flooding and vessel damage at sea.
Dana Collyer, one of the instructors, urged all those who make their living on the water to buy their own immersion suits and make sure they fit properly, rather than using one supplied by their vessel.
"This is the most important piece of safety gear you have," he said.
Another instructor, Mark Bisnette, emphasized the importance of inspecting the suits regularly to ensure they haven't deteriorated from dry rot. Both he and Collyer are marine surveyors with Marine Safety Consultants Inc.
"You've got to maintain it," Bisnette said. "This is your parachute."
At the onboard damage control station, Kyra Dwyer, Coast Guard fishing vessel examiner, led groups in practicing how to repair leaks using rope, duct tape, wood wedges, neoprene strips and other equipment they would have onboard. On a facsimile boat deck, teams worked furiously as Dwyer opened valves to send water spraying out from pipes and various seams.
After one crew successfully plugged a series of leaks, she congratulated them.
"You guys had some success," she said. "You're going home. You saved the ship."
A demonstration of how to deploy a life raft concluded the first day.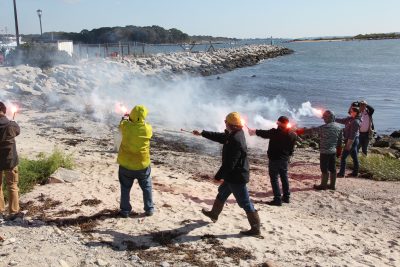 Anthony Mintiens, who's been fishing for scallops on the Stonington-based vessel Invictus for the past eight years, said he's taken the training before but was grateful for the chance to hone his skills.
"It was totally worth it," he said. "I don't want to go down with the ship in the freezing cold."
The second day was geared to a smaller group of 14 training for certification to conduct monthly safety drills for crew members. It covered such topics as cold-water survival, helicopter rescues and emergency station bills. The day ended with a test of whether participants could put on their immersion suits in 60 seconds or less, followed by simulation of man-overboard and abandon ship drills on board the Emma & Maria, a fishing vessel owned by Michael Theiler, who worked with Sea Grant to organize the training.
Theiler, New London-based commercial fisherman and member of Sea Grant's Senior Advisory Board, said the hands-on aspect of the training is especially valuable because of the changing makeup of fishing crews.
"We have a pretty high turnover, so it's especially important to have these trainings," he said. "For the new guys especially, it's very helpful to give them familiarity with the safety equipment and a chance to learn the procedures. And it's a chance for the crew and the captain to work together on a team on these various scenarios."