By Judy Benson
Originally posted by Connecticut Sea Grant
Groton – Chris Fowler knows the perils of his occupation as a commercial fisherman, consistently ranked one of nation's the most dangerous jobs.
So a year after he began catching skate, whiting, squid, flounder and fluke from a vessel docked in New London, he took a day off from fishing to equip himself with the skills he needs to survive an accident at sea.
"This is my first training since I started as a fisherman," said Fowler, his face wet after a drill that involved getting into an bright orange immersion suit, jumping into 50-degree water off the docks at UConn's Avery Point campus and climbing onto a four-man life raft.
Fowler was one of 36 commercial fishermen and state agency personnel who took part in a daylong safety and survival training course on May 10 sponsored by Connecticut Sea Grant, Fishing Partnership Support Services, the U.S. Coast Guard and UConn-Avery Point. The training began with classroom lessons on first aid, use of life jackets and opioid awareness. Then the fishermen and agency staff headed to the waterfront for training in firefighting, making emergency vessel repairs, using immersion suits and life rafts and use of flares to signal for help.
The Fishing Partnership, based in Burlington, Mass., provided the Coast Guard-accepted marine safety instructors for the training, several of whom are former commercial fishermen or served in the Coast Guard.  On its website, the Fishing Partnership notes that "fishermen are 37 times more likely to die on the job than policemen. And on top of that, New England's waters are the most dangerous in the country."
"Fishing is the most dangerous occupation, so our focus is to give hands-on training so they know what equipment to use and how to use it," said Ed Dennehy, director of safety training for the Fishing Partnership.
Commercial fishermen aren't required to take safety and survival training courses, he said.
"The only requirement is that they run man overboard, fire, flooding and abandon-ship drills once a month while they're fishing," he said.
The National Institute for Occupational Safety and Health, however, recommends fishermen take formal training classes like this one at least every five years. Connecticut Sea Grant has been sponsoring them with various partners about every two years since 2000, and teamed up with the Fishing Partnership in 2016, said Nancy Balcom, associate director of Sea Grant and lead organizer of the training.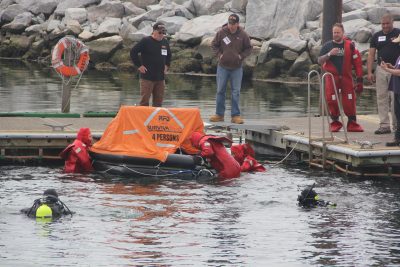 "There's always turnover in the industry, and they need refresher courses," Balcom said. "This is one of the services we can help facilitate for our fishermen to practice their skills so that if they ever have to act quickly they'll be prepared."
About 80 percent of those at the May 10 class were first-timers, Dennehy said, and the rest were getting refresher lessons.  Just last February, four fishermen survived the sinking of their vessel off Martha's Vineyard using skills they had learned in a training course, he said. But two years earlier, he added, another group of New Bedford fishermen died because they were unable to get their immersion suits on in time.
"They should do this training every two to three years," he said, "because there's always something you didn't pick up the first time. Sea Grant has been a really great partner with us on this, and this is an outstanding facility."
On May 11, 13 fishermen and state agency staff returned to Avery Point for a second day of training to become certified as drill conductors – those who run the monthly on-board safety drills. Michael Theiler, a commercial fisherman out of New London, brought his vessel Emma & Maria across the river to Avery Point for the day so his fellow fishermen could practice their drill conductor skills in an authentic setting.
Fisher Harris, one of the fishermen in the safety and survival training, said the experience was both fun and a sobering reminder of how quickly small accidents can turn into disasters without proper preparation. Harris fishes on the vessel Ad Hoc, which docks in Guilford.
"I'm definitely more confident now that if I ever needed to put out a fire, I could do it," he said, after learning the most effective way of directing a fire extinguisher onto a blaze.
Judy Benson is the communications coordinator at Connecticut Sea Grant.