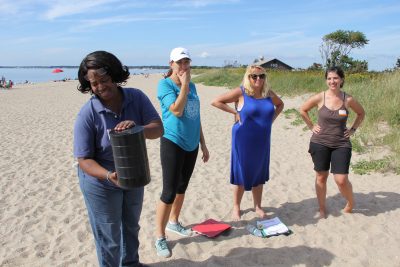 Connecticut Sea Grant has announced a new internship opportunity for a graduate student in the Long Island Sound Mentor Teacher program. Applications are due by Feb. 26.
Description:
Connecticut Sea Grant (CTSG) based at the University of Connecticut, Avery Point, Groton, seeks a graduate student intern to research, plan, develop, record, and edit virtual programming with educators and scientists focused on Long Island Sound (LIS) topics. Working directly with CTSG Education Coordinator Diana Payne and in collaboration with New York Sea Grant (NYSG) staff, the CTSG intern will learn about the Next Generation Science Standards (NGSS) from Payne and virtual recording techniques from NYSG. Specifically, the CTSG intern will seek potential speakers whose research aligns with NGSS Disciplinary Core Ideas (content) and can showcase Crosscutting Concepts and/or Science and Engineering Practices https://www.nextgenscience.org/three-dimensions. The CTSG intern may also assist in recruiting current and/or former LIS Mentor Teachers to share their expertise in teaching and learning during the COVID-19 pandemic.
Given the unexpected consequences of the COVID-19 pandemic, virtual sessions have replaced in-person workshops and professional learning opportunities for educators, that the CTSG Intern will help facilitate. Since its inception in 2002, the Long Island Sound Mentor Teacher (LISMT) program in Connecticut has consistently recruited high quality, creative and respected teachers to assist their peers in incorporating LIS content into curricula within the scope of the newly adopted Next Generation Science Standards (NGSS). From 2002 through 2019, 39 LISMT and NGSS workshops in Connecticut have utilized 31 LIS mentor teachers to reach 511 formal and informal K-12 educators, and through them, a self-reported 32,317 students in 101 Connecticut cities, towns and regional school districts (60%). Of note, the LISMT program was selected as a Best Practice by the 2019 CTSG site review team.
Find more information here.