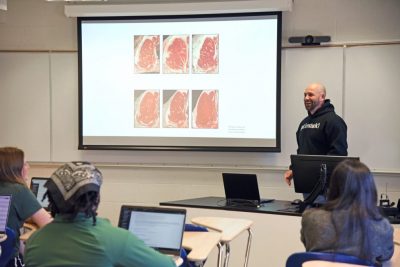 Connecticut may be best known as leaders in manufacturing and insurance, but one longstanding UConn program aims to help beef up the state's meat industry.
The meat science program in UConn's College of Agriculture, Health and Natural Resources teaches students about Connecticut's unique industry profile while providing them with the skills to work anywhere. Established in the 1950s, the program continues to evolve to meet student and business needs.
Connecticut's Unique Industry
Just like the state itself, the meat industry in Connecticut has an obvious difference from competitors in other parts of the country: size. Most Connecticut producers operate at a much smaller scale than in the Midwest, which has considerably more open land and less population density.
These different agricultural profiles have to do with history, geography, and corn, explains Joe Emenheiser, UConn Extension educator and animal science instructor.
"A lot of this is predicated on cheap food policy, and the cost of production and processing is cheaper where more land is available. All the costs between the animal level and the consumer level, they all matter," Emenheiser says.
Historically, the meat industry developed first on the East Coast, often near cities. But as people moved westward, there was more space for raising livestock at a lower price. Plus, new transportation systems allowed food products to be shipped from the Midwest back East. Another big advantage the Midwest had over East Coast states like Connecticut is that it is much easier to grow corn, an important food source for livestock….
Read the rest of the article here