Beachcombing with his wife and two children led New Haven artist Joseph Smolinski to the source of inspiration and raw materials for works he will create for Connecticut Sea Grant's 2021 Arts Support Award Program that reflect on the human impacts of climate change.
His project, titled "Carbon Adrift: Sea Coal in the Long Island Sound" was chosen for the annual arts award program now in its 12th year. It awards $1,000 annually to artists to create works relevant to coastal and marine environments and Connecticut Sea Grant themes and who are expected to display their works widely.
"The older I get, the more I realize that creativity comes from things like leisure time, when you're not trying to make art," said Smolinski, chairman of the Department of Art and Design at the University of New Haven. "My family spends a lot of time on the shore exploring, and we started finding these dark rocks and I started wondering, 'Are they natural or anthropogenic?'"
Those dark rocks turned out to be sea coal, both dislodged from coal deposits by natural forces and mined pieces that probably fell off barges and cargo ships.
"At every beach I've been to on Long Island Sound I've found them, from pieces as small as grains of sand to some as big as a hand, four to five inches across," said Smolinski.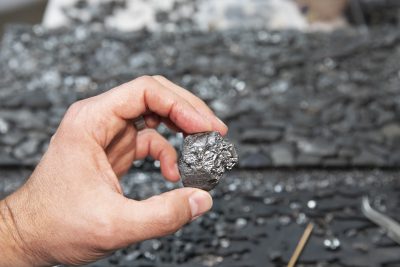 He began reflecting on the processes that transformed plant matter into sea coal over millennium, and the use of coal as a fuel source by modern humans that contributes to climate change now threatening the planet. That evolved into the idea of using sea coal to make art that speaks both to its history in geological time scales, and to the impacts of the rapid consumption of fossil fuels by humans. The result will be mosaics of intricately patterned pieces of sea coal fixed to wood panels that Smolinski described as "images of the setting sun over Long Island Sound" that are intended to depict the sun as "the energy source that gives coal its anthropogenic value."
In a complementary project that will be created for the project titled "Open Water," Smolinski will use images of sunsets over the open waters of the Sound and the Atlantic Ocean onto which water is sprayed, then various pigments applied. By pairing the monochromatic mosaics with the "highly colorful and energetic nautical renderings" of the seascapes, Smolinski hopes to call attention to the future of the world ocean and its central role in human survival. He also hopes to develop a website for schools and environmental groups with information from his research about sea coal and the works created for his project. The various works will be created over the next year.
The independent review panel for the arts award said Smolinski's project stood out for its "strong conceptual relationship between humans' effect on the environment and artwork." The panel also noted that the work addressed issues of materiality associated with environmental issues, eloquently evoking the transformation of materials such as coal through time.
"The submissions that we receive in response to the Connecticut Sea Grant Arts Support Awards program continue to amaze me with their varied aesthetic interpretations of Sea Grant's mission," said Syma Ebbin, CT Sea Grant research coordinator. "In addition to the creation of several art pieces, Joseph's proposal will generate significant research and potentially will yield an educational website, gallery exhibitions, and a series of lectures to provide access to the art and science behind the art to local schools and the diverse communities within Connecticut."
More information: Judy Benson, CT Sea Grant communications coordinator: judy.benson@uconn.edu; (860) 287-6426